MEDICAL DERMATOLOGY SERVICES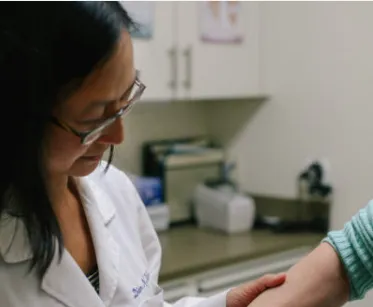 Our Dermatology providers treat patients of all ages for problems of the skin, hair and nails. Our dermatologists provide skin cancer screenings for skin cancer and pre-cancerous conditions. These skin checks are recommended annually by the American Academy of Dermatology. We provide comprehensive evaluation and individualized treatment appropriate to each patient's condition.
PHOTODYNAMIC THERAPY
Photodynamic therapy (PDT) uses light and a light-sensitive dye to treat cancer and other diseases. During the procedure, a photosensitized dye or drug is injected into the problem area, which is then exposed to pulses of a narrow-wavelength beam of light. The dye absorbs this light and produces an active form of oxygen that aids in the destruction of the tumor. PDT ensures high precision by targeting only the tissue in and near the treatment area.
HELPFUL TIPS FOR YOUR SKIN CANCER SCREENING
To help you make the most of your dermatology appointment, here are a few tips on how to prepare for and what to expect during a routine skin cancer screening.
BEFORE THE EXAM
Take a look at your skin. Make note of any new, changing, itching or bleeding moles, growths or other lesions. Remove all nail polish from fingernails and toenails. We need to look at your nails and nail beds, since skin cancers can form there. Also, it is important to remove all makeup. Makeup can hide small skin cancers and prevent early detection. Since the scalp may be examined, please remove any wigs or hairpieces.
AT THE EXAM
You will be asked to disrobe for the examination. The exam itself will likely be brief, but the more moles you have, the longer the exam. We will closely examine any moles or growths you noted during your skin exam. We may biopsy any suspicious-looking growths. If you have never evaluated your skin, we will explain how to do so and what to look for. It is important not to overlook certain areas like the scalp, between the toes, and the soles of the feet. Since this exam is focused on screening for skin cancers, addressing other conditions you may have will most likely be addressed in a separate visit.